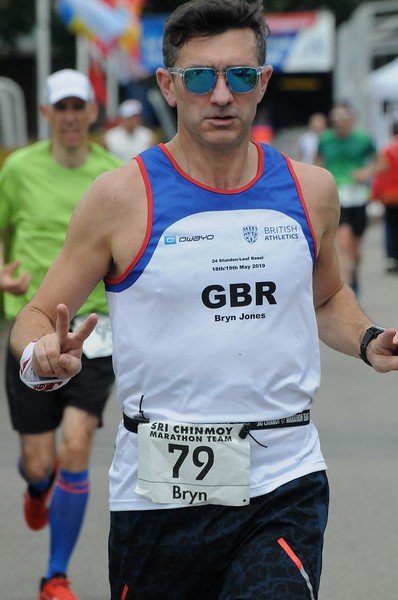 With help from DaznBone Bryn was able to get some focus around his 3 month lead up to Basel 24 Hour - to slay some demons and ultimately be another DaznBone superstar athlete in getting his Spartathlon qualifier. Going to be a top squad for 2020
Bryn: "I was more prepared for this race than Tooting 24 hour last year. Last year I turned up at Tooting after finding out I was in the event 2 days before having been on the lash most of the week! I had no crew, no nutrition plan as I drove to Sainsbury's the night before to buy scotch eggs, no real training, no strategy and no idea. That event I lasted 12 hours, having hit close to world record pace for first 50 km and run a 21 minute 5 km about 73 km in!
This year the plan was different. I had employed ultra coaches DaznBone whom have been bliss to work with. There is no doubt I'd not have achieved this without their help. I am a decent club 5 km runner and my love is 10 km with a British Masters qualifying time for 45 year olds but I have struggled to convert this form into ultras. With their help I built up knowledge and experience in training but be prepared for some mad bat expletives. For example there were +40,000 that did the London marathon this year, 200 that did the nohtaraM (marathon backwards at 4 am), only 1 that did it both ways!
My strategy was to run the first half of race at 5:30 mins/km to 5:45 mins/km. Thereafter, I was expecting "some" drift. I was not going to be a loose cannon this time. My goals:
A 235 km and above for possible world championship place
B 228 km for either auto British Spartathlon place or entry into centurion 100 mile event
C 180 km for British Spartathlon ballot place
D beat the Chimp and be there after 24 hours
So final position ….11th male out of 55 and 15th overall out of 83. On reflection I am happy with the Spartathlon ballot distance. Not to lose perspective I am proud of my achievement despite not reaching for my A goal. After all it is over four marathons in one day! Thanks again to DaznBone.
Next stops on my journey with DaznBone, smashing out some more 10 km races before a stab at British Masters 10 km, then hopefully Soochow 24 hour, Kladno 48 hour and will go in the Spartathlon ballot for 2020. They genuinely DO love working with their athletes".
THANK YOU BRYN
20% Improvement in 24 Hour time and Spartathlon Auto-Qualifier
If you want to reach your goals, should you get yourself a coach? For 4 times Spartathlon finisher and daznbone ultra-legend athlete James Ellis , the answer was a resounding YES!
I know, I know… As soon as you read that, it's likely that your first thought was: "Well he would say that wouldn't he?" James does, after all, make a living from dishing out nutrition and fitness advice to people, so he is bound to advocate the use of fellow fitness professionals.
But even he was astounded when he recently got running coaches DazNBone to help him out and saw a 20 per cent increase on a previous personal best… To find out how, read on!
http://endurenutrition.co.uk/articles/why-you-should-consider-employing-a-coach/
Harvey follows 3 month DaznBone marathon programme and smashes his PB
"I had run the marathon three times and never made it in under four hours. Thanks to Daznbone I managed to take 45 mins off my previous PB and complete the race in 3 hrs 50. The strategy they designed was perfect and I received a fantastic level of support across the whole five months. Highly recommended."
Justin & Luke NYC Marathon 2018
dazNbone were totally blown away by Justin and Luke's journey to this years New York City marathon. As a cancer patient, Luke has already dealt with plenty of challenges and throwing marathon training into the mix was no easy-street. Following a16 week plan Luke just nailed big run after big run whilst Justin had his own dramas with some tough shift-pattern work. As marathon newbies they really had the 'push hard and get a time versus finish well and enjoy every second' dilemma. It was clear that the second option was always going to be the one that would warm the cockles and give them the run-joy that followed the high of raising well over £10,000 for their Mo-vember cause. You guys are just the most inspiring pair and #daznbone cannot wait to see what you do (and support you in every step)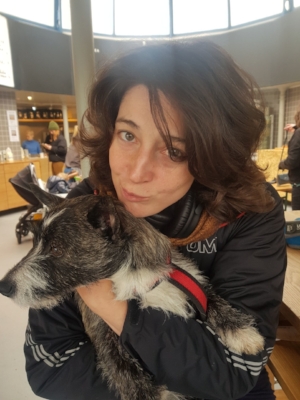 Alex ( who has been collaborating with daznbone for a while regarding her @PeakPinole enterprise) began putting together a team for the 2019 Caballo Blanco ultra and #daznbone asked her the question "So are you going to run it as well Alex?". What followed was various conversations (mostly crazy ones - well this is Alex) about "being too determined", "getting constant injuries" and "leaving it to the ultra pros".
Classic opportunity for #daznbone to build a new and importantly carefully planned 'monthly' programme to help Alex grow both in terms of strong core, strength in the legs and the mental strength to see that she could be #intheteam
It's crucial that this is seen as a long/progression - there's no value in doing too much too soon and it's essential to build up that mental strength that will allow Alex to complete ultra type distances knowing that her knees will play ball.
Coach Daz feedback for Alex - "Please look after the knee and the sleep levels…… I would much rather you back off runs, get some rest and let the knee mend than trying to "push through it". This stuff is all about a steady accumulation of gains over weeks and months, and if you're mega tired and trying to push through, the risk of more serious injury skyrockets. That happens, it sets us back weeks and months. So don't worry/stress about trying to hit "the plan". Better that you do one or two runs this week and feel healthy than try to do 4 runs and it sets us back."
https://www.strava.com/athletes/9564476
Training with his friend Martin Longhurst to compete in their first 24 hour event. Challenge set to "take a peek at the current Team record and maybe..."
Martin has a classic back history when it comes to running. He has tried and failed on several occasions and over many years to feel comfortable doing more than 5km/10kms. He has had injuries and I guess more of that "I'm going to get an injury" feeling which has always caused him to consider stopping at the half marathon distance.
Fast forward to this last year and Martin has been (reading prolifically which #daznbone love) balancing things such as core strength as well as some great cross training and this has led to him feeling more confident in his running and achieving new pbs.
Martin came to daznbone when he signed up to take part in this years Spitfire Scramble - a 24 hour run where Martin was joining his long-time friend and run-buddy Martin Longhurst as a "2 man team".
Following dialogue gives you a sneaky peek into the classic type of question we receive from clients and how we look at all ways to help:
Martin: "(Coach Daz)... seen the (Training Peaks) plan you added, thanks. How specific do I need to be around when the rest days are? The reason I ask and was gong to explain when we speak is I need to incorporate some other things I do into the training if poss.
I am doing open water swimming on Saturday mornings until mid-July (anything from 2-3km) and have 1.5 karate training on Sundays and most Thursdays - I am happy to do the runs on those days too if possible but they need to be the easier ones I guess."
Coach Daz: "Mate totally relaxed about it. It doesn't really matter about which days you run, just try to work it so that:
you are not going hard/hard on consecutive days. So if you went out and did a 12 miler with David tomorrow at 8:30s, I'd be having a word after your run this morning. 5 easy lunchtime miles at 9s, totally cool….

you're in or around the weekly mileage target neither too low or too high (35 to 45 miles this week is perfect)

it fits in around your work and other commitments. So if you have to sacrifice a run because you've got other stuff on then do that and be chill about it. Stress levels are a big influencer on performance so stay relaxed my man.
Dazza"