The Spitfire Scramble is a 24 hour relay held in Horchurch Country Park, Essex. 2018 was the fifth time the event has been run and the relay can be run as a Solo or in teams of up to eight members. A lap is 5.75 miles, there can only be one person running in your team at a time and a lap must be finished in order to count. The most laps for your team size (in the fastest time if there is a draw) takes the winners medal.
Martin & Martin entered the Spitfire Scramble back in November 2017, initially thinking we would form a team of more than two. We asked a few running friends who initially showed some interest but later declined due to other commitments - we decided to not bother asking anymore else and go it alone as a pair. We looked at last years results and thought if we could run 18 laps or more we could do pretty well - and so the journey started.
Martin and I have been running a few years, I have run a couple of Marathons and Martin Longhurst a bit longer with a number of good Marathons under his belt - neither of us had run further than this distance and made it to an Ultra so we were both in unknown territory. Let the fun begin….
The year started with some other events to train for and increase the fitness. Martin and Martin ran the Test Track 10 ten mile race around Fords Dunton track in February and Victoria Park Half Marathon together in April. Martin Longhurst ran the Woolacombe Marathon a few weeks before and Martin Denham swam the two mile Great North Swim in Windermere.
It was quite late on, with 6-8 weeks to go when DaznBone heard what we were doing and offered to give us some coaching and advice. Everything from the actual running to what to eat before, what to eat during, how to look after your feet and how to deal with the demons when you have been awake far too many hours and you are about to start a lap when your body just wants to go to bed.
Darren put us on a mini training programme over those weeks where we built up to a 5 hour steady run and then tapered perfectly into the event. Come race day we both felt eager to get started with fresh legs and a positive attitude.
850 runners were ready to get going at 12pm on Saturday 14th July with a subset of those starting for their respective teams. It was an absolute scorcher of a day and looked to be one of the hottest days of the year - not great for a 24 hour run. Martin Longhurst won the toss for Martin & Martin and ran lap one. It was amazing how quickly the first seven or eight laps went and before we knew it we were heading for the dusky hours - at this point we were both still feeling strong having run roughly Marathon distance….what a great surprise and boost when I reached the start line for lap 9 and Darren from DaznBone had shown up to run a lap with me - we spoke for the whole lap and before I knew it the lap had finished and I barely noticed - boom!!!
At around midnight we both decided it would be good to try to give the other a longer rest than the approximate hour it was taking to run each lap - we considered running two laps each but then decided it would be a better strategy to walk a lap each so we both got a rest - this was undoubtedly the right thing to do and this kept us strong enough to keep running until the end.
In the race tent, we would go and see the leader board every couple of laps and we noticed 1st, 2nd and 3rd were pretty close and the positions were changing almost every lap.
The nighttime hours went very quickly and it was actually very pleasant running in the pitch black of night with a head torch having ran the whole afternoon in almost 30 degree heat. 1st place had gone a little ahead now but team Martin & Martin were in a flip flop between 2nd and 3rd place - we were doing better than we had imagined.
I had already run further than I had ever run before whilst running my lap 5 with Darren (quite nice it worked out that way) and in the early morning hours we knew we should beat our 18 lap target. On my lap 8, IT band problems started and lap 9 was more of a shuffle. However, 50 miles each was complete around 10am - we had two more laps in us surely? I wasnt sure due to the IT band problems so I decided to take a massage from the FlyingPhysios on site whilst Martin Longhurst was running lap 19 - the massage hurt almost as much as the running but it got me through our final lap (20) where I was joined by a 62 year old non participant who chatted to me all the way around and once again I found myself approaching the timing mat in a flash.
The time was 11.30 and we were in second place. We had run 20 laps and third place had run 19 - there was enough time for 3rd place to run another but it looked like there wasnt enough time for them to beat us.
We closely watched until 12pm on Sunday - there was no last minute drop to 3rd place and so we "walked away" with 2nd - what a magnificent, enjoyable event.
I had previously run a marathon distance, but I had just ran 92km - my body had just done something I didnt think I could make it do. Running this far is a mental challenge and having had friends and family come over to support, running lap 9 with Darren and running lap 20 with my new friend was a massive boost and kept the time moving between and during laps - I thank them all. Leaving the best to last though, doing this type of event with a friend like Martin Longhurst was a great experience and the support and inspiration you get from each other is second to none.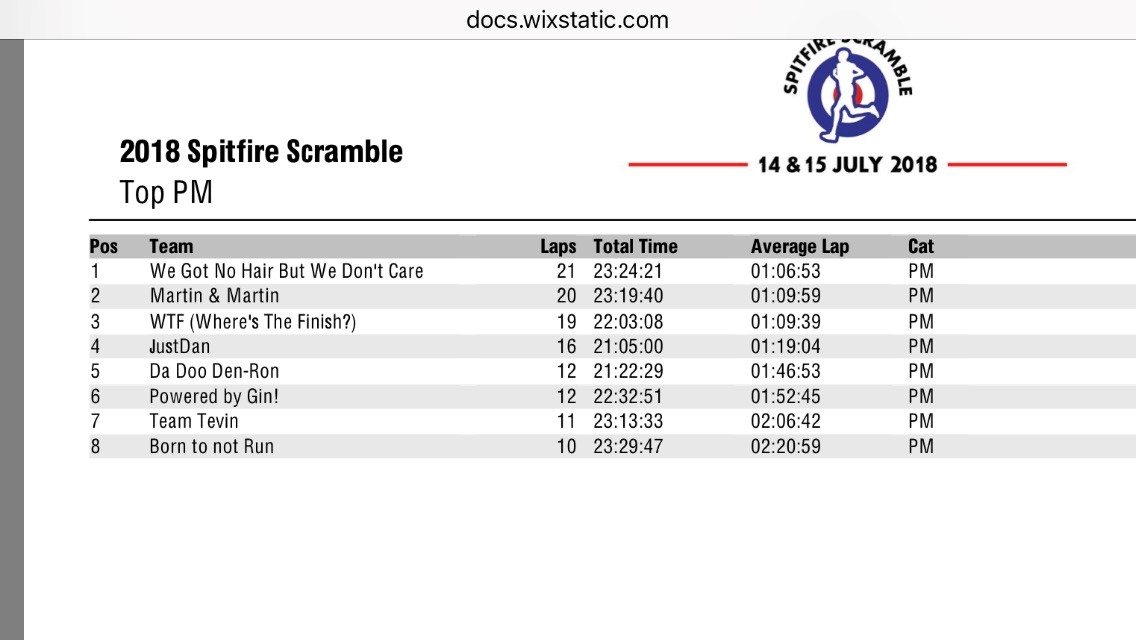 Registration for 2019 has just opened and Martin & Martin are considering a second go at first place !